Important information: It is a pleasure to announce that the conference proceedings from the international scientific conference ICoM_2017 "Managerial Trends in the Development of Enterprises in Globalization Era" was listed in the database Web of Science.


Slovak University of Agriculture, Nitra, Slovakia
Faculty of Economics and Management
Department of Management and Department of Marketing and Trade

in cooperation with



Szent István University, Gödölő , Hungary
Faculty of Economics and Social Sciences, Institute of Business & Organizational Management





Częstochowa University of Technology, Poland
Management Faculty, Institue of Sociology and Psychology of Management




Mendel University in Brno, Czech Republic, Faculty of Business and Economics




invite to the

7th International Conference on Management (ICoM 2017)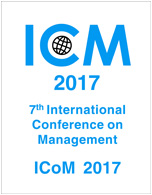 "MANAGERIAL TRENDS IN THE DEVELOPMENT OF ENTERPRISES IN GLOBALIZATION ERA"

which will take place in Nitra (Slovakia)

June 1 – 2, 2017

The main attention of the international conference is devoted to the presentation of the selected problems in enterprise management with regard to the practice and theory in the 21st century. This international conference deals with theory and practice in business management and marketing and can be recommended for the scientists, researchers and the representatives of the business sector. An additional goal the conference is to provide a place for academicians and professionals with interests related to business, planning, organization and human resources issues as well as agribusiness and sustainable development.

The topics of the international conference are the following:


Managerial Aspects of Internationalization of Entrepreneurship
Business Strategies, Planning, Organization and Management of Enterprises
Human, Social and Intellectual Capital in an Organization
Corporate Social Responsibility, Business Ethics and Sustainable Development
Knowledge and Innovation Management
Diversity Management
New Trends in Management and Marketing
Agrobusiness and Sustainable Development

The language of the international scientific conference is English.

PUBLICATION

All the papers (6-10 pages) will be reviewed and published in the Conference Proceedings with ISBN online. The published proceedings of reviewed scientific articles in English language will be applied for ICoM 2017 proceedings to be indexed in ISI Web of Science.
After the conference the expanded versions of the papers proposed by the scientific Committee will be published in a Monograph or in the selected scientific papers.

Each main author and each co – author have to be registred. Papers must be submitted by the main author. In the case when one person is author of one paper and the co – author of second paper, only one conference fee have to be paid.